The Micro Temperature Controller's small, compact design(patented) provides a quick solution for implementing heating features into your existing designs without the hassle of reorganize circuit layouts. It's robust feature allows customized ON/OFF temperature range as well as time interval settings, with more than 10,000 specifications available. It can be utilized with our light weighted Ultra-thin Flexible Heater, or with any products with limited space. KLC's Micro Temperature Time Controller has the following features:
Small, light weighted, space saving design(patent).
Easy to use, does not require additional controls or circuit design .
Sampling rate <0.1seconds.
Customized ON/OFF temperature.
Customized ON/OFF time interval and temperature rotation.
More than 10,000 specifications available.
Can be utilized with KLC heater product ranges.
Suitable for pet warmer, heater blankets, heater mattress etc.
Micro Temperature Time Controller – Model Differences
Model
Description
Constant Temp (±2℃)
Temperature
Duration (min)
Loop Timer Setting
Low Limit
High Limit
ON Timer
OFF Timer
MT
Constant Temp. Control
-30℃~120℃
(Special design -30℃~180℃)
MTT
Constant Temp. with Set Time Control
1min~1440min (24HR)
MTR
Temp. Limit Control
-30℃~120℃
(Special design -30℃~180℃)
MTTR
Temp. Limit Control with Timer
1min~1440min (24HR)
MTC
Constant Temp. Control with Loop Timer
-30℃~120℃
(Special design -30℃~180℃)
1min~99min
(Longer loop time can be customized)
MTTC
Constant Temp. and Loop Timer and Duration Control
1min~1440min (24HR)
Micro Temperature Time Controller (MT Series) – Standard Specifications
---
Dimension (L x W x T)
: 25 x 12 x 5mm
Material
: Polyolefin
Input Voltage
: DC3.7V~12V  /  DC12V~24V
Frequency
: 50/60Hz
Max. Current
: ≦4A(10A/within 30 seconds)
Ambient Humidity
: 0 to 80%RH; with no condensation or icing
Temperature Range
: -30℃ to 120℃ (Other temperature range can be customized)
Setting/Indication Method
: LED indicator
Temperature Control
: Customized temperature setting – in units of 1℃
Max. temp. of 120℃(standard); 150℃ and 180℃ also available upon request
Time Control
: Continuous(standard), can also customize heating time period
Rotation Control
: No rotation(standard), can also customize rotation settings
MT Model
Constant Temperature Control
The MT model is recommended for use when temperature precision is required and rapid on-off switching can be tolerated without damaging the heating device or end product. The required constant temperature is fixed for precise temperature control. The thermostat switches off the heater when it reaches the desired temperature and turns back on when sensed temperature drops (life >10,000,000 cycles).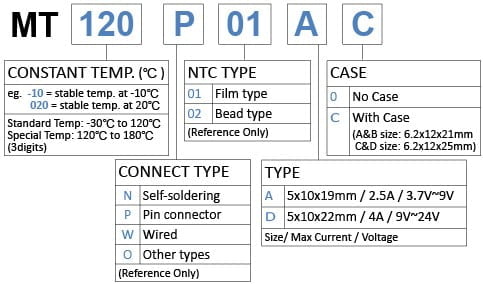 | No. | Model | Constant Temperature(℃) |
| --- | --- | --- |
| 1 | MT-30XXXX | -30℃ |
| 2 | MT-25XXXX | -25℃ |
| 3 | MT-20XXXX | -20℃ |
| 4 | MT-15XXXX | -15℃ |
| 5 | MT-10XXXX | -10℃ |
| 6 | MT-05XXXX | -5℃ |
| 7 | MT000XXXX | 0℃ |
| 8 | MT001XXXX | 1℃ |
| 9 | MT003XXXX | 3℃ |
| 10 | MT005XXXX | 5℃ |
| 11 | MT010XXXX | 10℃ |
| 12 | MT015XXXX | 15℃ |
| 13 | MT020XXXX | 20℃ |
| 14 | MT025XXXX | 25℃ |
| 15 | MT030XXXX | 30℃ |
| 16 | MT035XXXX | 35℃ |
| 17 | MT036XXXX | 36℃ |
| 18 | MT037XXXX | 37℃ |
| 19 | MT038XXXX | 38℃ |
| 20 | MT039XXXX | 39℃ |
| 21 | MT040XXXX | 40℃ |
| 22 | MT042XXXX | 42℃ |
| 23 | MT045XXXX | 45℃ |
| 24 | MT047XXXX | 47℃ |
| 25 | MT050XXXX | 50℃ |
| 26 | MT052XXXX | 52℃ |
| 27 | MT055XXXX | 55℃ |
| 28 | MT055XXXX | 55℃ |
| 29 | MT060XXXX | 60℃ |
| 30 | MT065XXXX | 65℃ |
| 31 | MT070XXXX | 70℃ |
| 32 | MT075XXXX | 75℃ |
| 33 | MT080XXXX | 80℃ |
| 34 | MT085XXXX | 85℃ |
| 35 | MT090XXXX | 90℃ |
| 36 | MT095XXXX | 95℃ |
| 37 | MT100XXXX | 100℃ |
| 38 | MT105XXXX | 105℃ |
| 39 | MT110XXXX | 110℃ |
| 40 | MT115XXXX | 115℃ |
| 41 | MT120XXXX | 120℃ |
| 42 | MT125XXXX | 125℃ |
| 43 | MT130XXXX | 130℃ |
| 44 | MT135XXXX | 135℃ |
| 45 | MT140XXXX | 140℃ |
| 46 | MT145XXXX | 145℃ |
| 47 | MT150XXXX | 150℃ |
| 48 | MT155XXXX | 155℃ |
| 49 | MT160XXXX | 160℃ |
| 50 | MT165XXXX | 165℃ |
| 51 | MT170XXXX | 170℃ |
| 52 | MT175XXXX | 175℃ |
| 53 | MT180XXXX | 180℃ |
Models 

Highlighted 

are standard models. The delivery time for these models is shorter.
Models in BLUE are special models with higher temperature range up to 180℃.
Standard Temperatures -30℃~120℃
Voltage: 3.7V~24V
Maximum Current: 2.5A (Type A); 4A (Type D)
Other specifications not listed are also available upon request.
For example: Constant temperature kept at -11℃ / -10℃ … /-1℃ / 0℃ / 1℃ / 2℃ / 3℃… 178℃ / 179℃