PTC Heaters for Electric Car: Your Complete Guide
Discover the optimal heater solution with KLC Corporation's PTC heater for electric cars. Engineered for efficiency, safety, and seamless integration. Explore now!
Product Description
PTC (Positive Temperature Coefficient) heaters for electric vehicles (EVs) are essential components that cater to the growing EV market. The unique properties of PTC materials, which allow them to self-regulate their temperature, make them particularly suitable for EV applications.
KLC Corporation offers standard electric auxiliary heaters for future generations of electric, hybrid, and fuel-cell vehicles.
As more energy-efficient diesel and hybrid-powered vehicles take to the roads, recent trends toward engines with lower heat rejection rates in production vehicles have progressively reduced the amount of available "waste" heat for compartment heating. In an effort to reduce compartment heat-up time while increasing the compartment temperature, a new PTC (positive temperature coefficient) electric heater system has been developed to supplement the performance of current hot water-based vehicle heaters.
The PTC supplemental heater system features automatic power adjustment in response to ambient temperature conditions and HVAC fan speed, along with self-regulation of the heater temperature. In addition, the power draw of the PTC heater can be matched automatically to the available electrical power level for all vehicle operating conditions.
Why PTC Heaters for Electric Cars?
Self-Regulation: One of the significant advantages of PTC heaters is their self-regulating nature. As the material heats up, its resistance increases, which in turn reduces the current flow and stabilizes the temperature.
Safety: Safeguard your PTC heaters and equipment with our built-in safety fuses, enhancing system reliability.
Efficiency: PTC heaters can quickly reach desired temperatures, providing rapid cabin heating in cold conditions.
Compactness: PTC heaters are often compact, making them suitable for the limited space available in vehicles.
Robustness: Our PTC heaters are designed to withstand external electric shocks, adding an extra layer of safety.
Designing Guide with KLC's Custom PTC Heaters
---
Choose from a range of customizable features:
IP68 Certified Durability for All Environments: Select the option for IP68 dust and waterproof certification, opening up a world of possibilities for applications, including automotive, marine, and outdoor use.
Wide Voltage Range from 12V AC/DC to 800V: Tailor your PTC heater to your specific voltage requirements, with compatibility ranging from 12V AC/DC to 800V, ensuring seamless integration into your system.
Power Ranging from 30W to 3000W: Customize your heating power with options ranging from 30W to 3000W, ensuring that your PTC heater meets the demands of your project, whether big or small.
Choice of Live Parts or Insulation: Make your PTC heater your own by choosing between live parts or insulation, allowing for a tailored solution that suits your project's unique needs.
Adjustable Airflow to Suit Your Needs: Achieve optimal heat distribution by selecting the ideal airflow for your project, ensuring efficient and effective performance.
Efficient Multi-Stage Heating: Harness the power of multi-stage heating with PTC Air Heaters, which enable the heating of one or two tubes at a time. This innovative approach delivers:

Enhanced Power Efficiency: By heating one or two tubes at a time, our heaters achieve remarkable power efficiency, resulting in reduced energy consumption and cost savings.
Prolonged Heater Life: This intelligent design reduces stress on components, contributing to a longer heater life and increased reliability.

Water-Resistant Features: For damp environments or products that encounter moisture, our heaters can be made to meet IP68 waterproofing standards.
Branding: Blend the heater with your brand identity through custom labels and packaging.
Complete Your Project with PTC Heater Accessories
---
Enhance your project's efficiency with our selection of optional PTC heater accessories, available for purchase:
High-Temperature Mounting Frames: Simplify installation and ensure the longevity of your PTC heaters with our high-temperature mounting frames, offering stability and resilience.
Thermostats: Fine-tune temperature regulation and control with our thermostats, optimizing the performance of your PTC heaters.
Safety Fuses (Built-in): Safeguard your PTC heaters and equipment with our compatible safety fuses, enhancing system reliability.
Fans: Enhance heat distribution and maintain optimal operating temperatures with our fans, ensuring consistent performance.
Time-Temperature Controllers: Gain precise control over heating schedules and temperature settings with our time-temperature controllers, ensuring efficient operation.
Terminal Wire Sets: Streamline connections and wiring with our terminal wire sets, simplifying installation and enhancing reliability.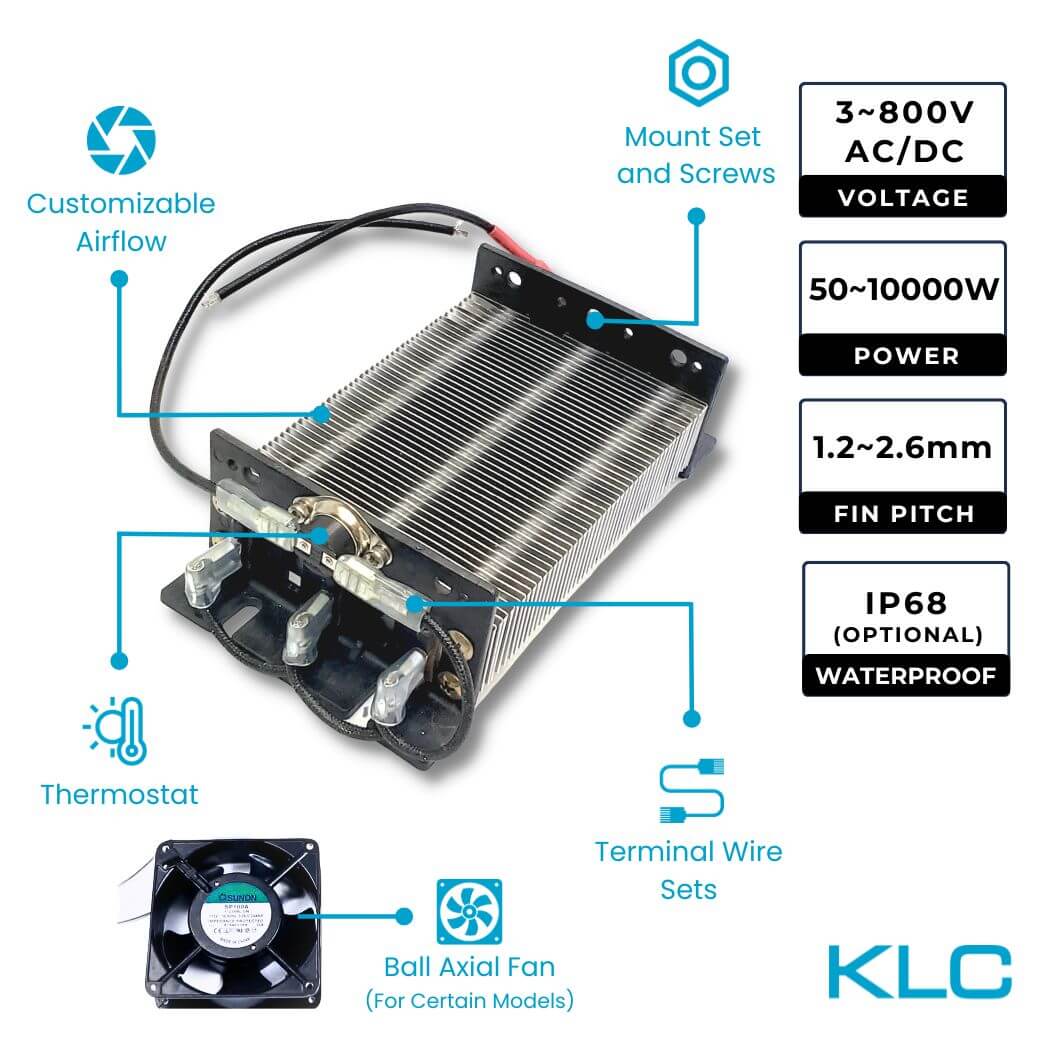 Recommended PTC Heater Models
---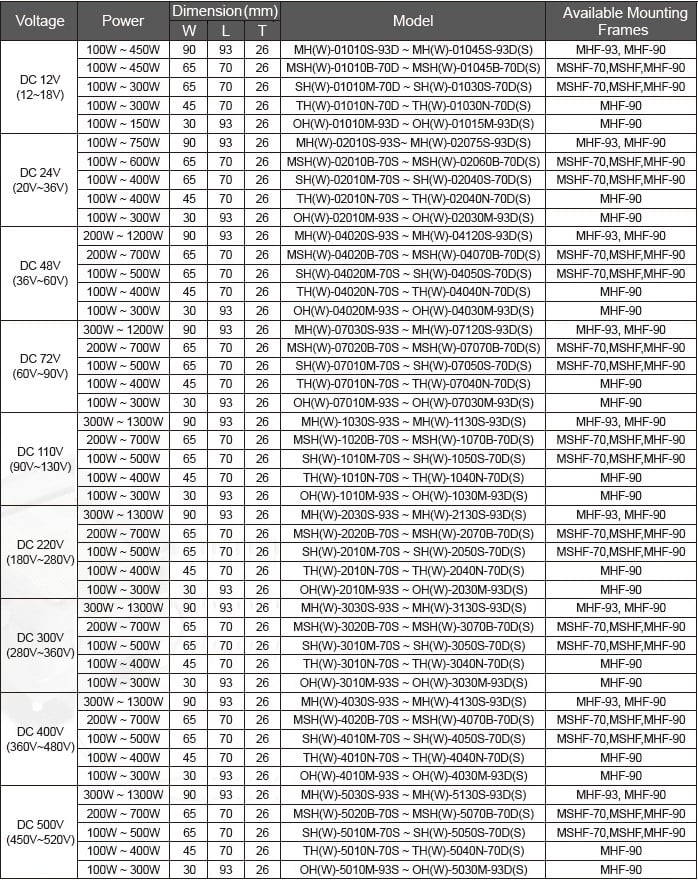 All models with current (A) > 15A will have 6 terminals.
Please refer to individual PTC air heater models for more detailed specifications and Model numbering conventions. (Links available in the section below)
Low voltage PTC air heaters will have higher current, hence are not recommended to use in conjunction with high power(W) specifications.
The PTC air heaters designed for automobiles are specially designed with stronger endurance and higher safety standards.
Cabin Temperature Test with PTC Air Heater
---
Voltage: 72V
PTC Length: 128mmL
Ambient Temperature: -18℃
PTC Model
Power(W)
Average Power Consumption
(W)
Fin Pitch (mm)
Location
Time(min)
Start
10min
20min
30min
MH TYPE 
2000W
1650W
2.6mm
Vent 1
-12℃
19℃
25℃
29℃
Face 1
-12℃
8℃
14℃
17℃
Cabin 1
-15℃
0℃
4℃
8℃
MH TYPE
2500W
2200W
1.2mm
Vent 2
-15℃
26℃
33℃
38℃
Face 2
-13℃
10℃
18℃
23℃
Cabin 2
-17℃
1℃
7℃
12℃
MH TYPE
2000W VS 2500W
2.6pitch VS 1.2pitch
Vent
-3℃
7℃
8℃
9℃
Face
-1℃
2℃
4℃
6℃
Cabin
-2℃
1℃
3℃
4℃
Other Related Information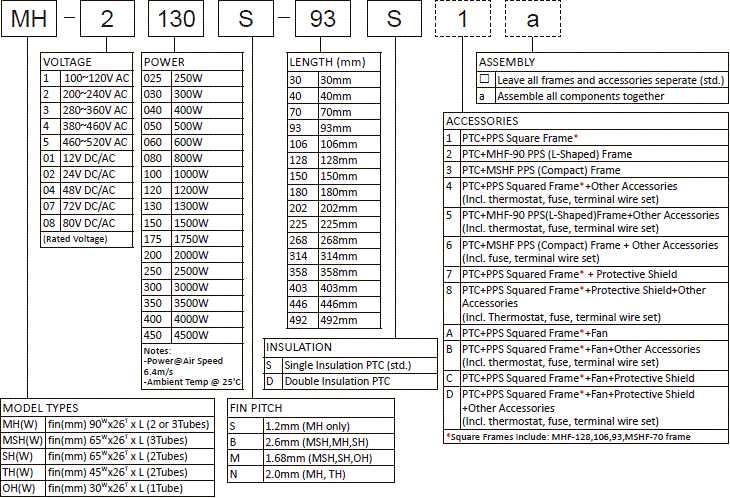 Click on the following images for more detailed specifications:
PTC Air Heater Models
Models
Dimension (mm)
Tube No.
Fin Width
(mm)
Fin Pitch (mm)
Standard
Wired
MH
26mm x 90mm x L
L(mm) :
70, 93, 106, 128, 150, 185, 202, 225, 268, 314, 358, 403, 446, 492
2 or 3
90
1.2
2.0
2.6
MSH
26mm x 65mm x L
L(mm) :
70, 93, 106, 128, 150, 185, 202, 225, 268, 314, 358, 403, 446, 492
3
65
1.68
2.6
SH
26mm x 65mm x L
L(mm) :
70, 93, 106, 128, 150, 185, 202, 225, 268, 314, 358, 403, 446, 492
2
65
1.68
TH
26mm x 45mm x L
L(mm) :
70, 93, 106, 128, 150, 185, 202, 225, 268, 314, 358, 403, 446, 492
2
45
2.0
OH
26mm x 30mm x L
L(mm) :
30, 50, 70, 93, 106, 128, 150, 185, 202, 225, 268, 314, 358, 403, 446, 492
1
30
1.68
SS
22 x 22.3 x 15mm ~ 361 x 267.6 x 15mm
Frequently Asked Questions (FAQs):
How does a PTC heater for electric cars differ from traditional heaters?
Traditional car heaters rely on engine heat, while our PTC heater is specifically designed for the unique needs of electric cars, ensuring efficient heating without an engine's excess heat.
Does the PTC heater drain the car battery significantly?
While all heaters consume power, our PTC heater for electric cars is optimized for energy efficiency, minimizing battery usage.
How long is the lifespan of this PTC heater?
Designed for longevity, our heaters typically last for the entire lifespan of your electric car with proper maintenance.
Is it difficult to integrate the PTC heater into my electric car's HVAC system?
Our heaters are designed for seamless integration into electric car HVAC systems. We also provide guidance for smooth installation.
KLC Corporation
Your One-Stop Heater Solution
We are always ready to help you and answer your questions.
Request a Quote