Product Description
Taiwan KLC Corporation , has more than 10,000 standard flexible thin heaters to select from, with more than 5,000 are cUL and CE recognized. For first order, it is recommended for you to pick from our standard heater that's closest to your specification for proof-of-concept testing before working on customized solution.
Contact us now with your design requirements on +886-4-25330456 or email: info@ptc-heater.com.tw !
SELECT FROM STANDARD ROUND 220V FLEXIBLE HEATERS
Simply select the desired Diameter,Temperature Rise, Voltage and specify the estimated Quantity, Installation choice and your Application. We will be happy to assist you to meet your application need!
The standard length of the lead wires are 200mm (20cm), please let us know in advance if different wire length is required.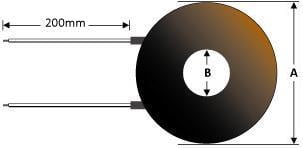 KLC Corporation
Your One-Stop Heater Solution
We are always ready to help you and answer your questions.
Request a Quote